Ernie Silvers
Adjunct Professor of Entrepreneurship
Joined the Entrepreneurship Team in 2015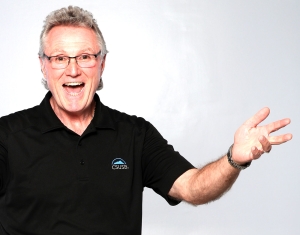 Ernie is the MBA Programs Director at the Jack H. Brown College of Business and Public Administration at California State University, San Bernardino, CA (CSUSB). Ernie has been teaching undergraduate and graduate level courses in the Entrepreneurship, Management, and Marketing departments since 2014. Professionally, Ernie has more than 30-years of diverse managerial experience in executive management, operations management, manufacturing, sales and marketing, human resources, and logistics. The bulk of his career has been spent in the automotive aftermarket, which is a 63-billion-dollar global industry. During this time, Ernie has been actively involved with the Specialty Equipment Marketing Association (SEMA), and has served in various leadership positions on several committees, industry councils and the SEMA Board of Directors.
As an entrepreneur, Ernie is the driving force behind Silvers Connection, a growing consulting practice focused on connecting people and business with opportunities for growth and profitability through lean concepts, process improvement, education, and training. Silvers Connection specializes in leading mid-sized, small, and family-run businesses through development and implementation of operating systems to maximize efficiency and sustain profitability.
Most Admired Entrepreneur:
Having lived in the automotive aftermarket for the last 25-years my faves include Barry Mequiar; Mequiar's Inc.; Corky Coker: The Coker Group; Myles Kovacs: DUB; and Hot Rod Valdez: Industry personality and event planner - These folks may not be household names to the average person, but they've sure changed the hot rod and classic car industry!
CSUSB School of Entrepreneurship Faculty Directory
CSUSB School of Entrepreneurship Faculty Directory

Our battle-tested leaders are here to provide student support. We invite you to connect with us!

Faculty
Position / Areas of Responsibility
Contact Info
Dr. Michael Stull
Director of the School of Entrepreneurship, Professor of Entrepreneurship and Director of the Inland Empire Center for Entrepreneurship /IECE
mstull@csusb.edu909/ 537-5708
Steve Abbott
Entrepreneur in Residence, Lecturer of Entrepreneurship
sabbott@csusb.edu909/ 537-3597
Frank Almeida
Adjunct Professor of Entrepreneurship
frank.almeida@csusb.edu951/ 323-7647
AJ Beechko
Adjunct Professor of Law and Entrepreneurship
ajbeechko@csusb.edu909/ 537-5708
Ezekiel Bonillas
Adjunct Professor of Entrepreneurship
ebonillas@csusb.edu760/ 848-9102
Mariatu Browne
Adjunct Professor of Entrepreneurship
mariatu.browne@csusb.edu909/ 231-2875
Monica Estrella
Adjunct Professor of Entrepreneurship
mestrella@csusb.edu
Karla Gonzalez
Adjunct Professor of Entrepreneurship
kgonzalez@iesmallbusiness.com951/ 781-2345
Dr. Anna Long-Ruboyianes
Assistant Professor of Entrepreneurship
anna.long@csusb.edu
Vincent McCoy
Adjunct Professor of Entrepreneurship
vmccoy@csusb.edu760/ 449-6850
Mitch Morris
Adjunct Professor of Entrepreneurship
mitchellcmorris@gmail.com909/ 537-5708
Patrick Person
Adjunct Professor of Entrepreneurship
pperson@csusb.edu909/ 537-5708
Lisa Rios
Adjunct Professor of Entrepreneurship
lrios@leadershipdimensionsinc.com951/ 444-7404
Ernie Silvers
Adjunct Professor of Entrepreneurship
esilvers@csusb.edu909/ 537-3760
Michelle Skiljan
Adjunct Professor of Law and Entrepreneurship
mskiljan@iewbc.org951/ 781-2345
Johanna Smith
Professor of Theatre Education, Improvisation, & Puppetry, College of Arts & Letters
johanna@csusb.edu909/ 537-5881
Dr. John Tillquist
Adjunct Professor of Entrepreneurship
jtillquist@TechCoastAngels.com951/ 323-7647