The School of Entrepreneurship at CSUSB
The School of Entrepreneurship, housed in the Jack H. Brown College of Business and Public Administration, places CSUSB as a leading entity in the growing field of entrepreneurship education, said Dr. Mike Stull, lead Entrepreneurship professor and Director of the Inland Empire Center for Entrepreneurship (IECE), who serves as the school's director.
The CSUSB entrepreneurship program is accredited by the Association to Advance Collegiate Schools of Business (AACSB), the leading accreditation for business academic programs worldwide and has evolved and grown substantially since it was launched in the early 2000s.
As entrepreneurship has grown at CSUSB, the greater academic field of entrepreneurship has also grown and evolved to become recognized through research and programs as a distinct discipline in the field of business. These trends, coupled with the anticipation of future growth and development of the program, resulted in the unanimous decision by the CSUSB entrepreneurship faculty to propose the establishment of a new academic unit representing Entrepreneurship. The school, developed and approved over a three-year process, ultimately received unanimous approval from the Jack H. Brown College, the university Faculty Senate and CSUSB President Tomás Morales.
As entrepreneurship continues to evolve and grow as a distinct academic discipline, legitimate programs that aspire to national and global recognition are establishing distinct Schools of Entrepreneurship within their respective academic colleges. Universities such as Florida State University, Oklahoma State University and Drexel University are among the early adopters in establishing schools.
"Becoming the first School of Entrepreneurship in the state of California enables us to extend our existing brand as a top entrepreneurship program and continue to be an innovator both locally and within the CSU system with regard to entrepreneurship education," Stull said. "Potential students will be drawn to CSUSB as we practice what we preach – innovation, growth and applying the entrepreneurial mindset to achieve impact."
What the School of Entrepreneurship Has to Offer
Welcome From the Director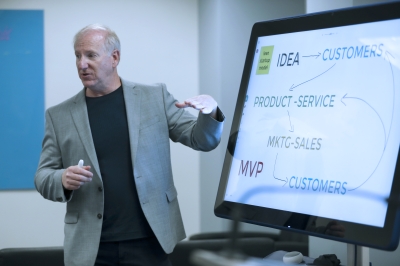 Dr. Mike Stull, Interim Director, School of Entrepreneurship
Want to be an innovator or entrepreneur? If so, the School of Entrepreneurship is the right place for you!
The School delivers multiple undergraduate and graduate academic programs in Entrepreneurship that prepare students to be innovators in any context – startup ventures and small businesses, corporate entrepreneurship or social entrepreneurship. Recognized by AACSB International as a Top 35 global entrepreneurship program, the first (and only) School of Entrepreneurship in California delivers an ecosystem on campus that supports startup activity, helping students to acquire the entrepreneurial mindset and "Think Like An Owner!™"
As a School of Entrepreneurship, we oversee and coordinate eight major academic programs in entrepreneurship with over 20 full- and part-time faculty and various amenities including the Catalyst Accelerator, and full-time, present and engaged Entrepreneur-in-Residence, as well as many student and community programs development and supported by our Inland Empire Center for Entrepreneurship (IECE).
The School of Entrepreneurship Team
The NEW School of Entrepreneurship at Cal State San Bernardino is led by an experienced team of entrepreneurial faculty and staff, dedicated to offering the best academic programs in Entrepreneurship and providing unique experiential learning opportunities to students to as they acquire the entrepreneurial mindset and learn how conceive and launch new ventures
A business is just a good idea away at CSUSB – are you our next great entrepreneur?
CSUSB School of Entrepreneurship Advantages