Entrepreneurship Honor Society - Sigma Nu Tau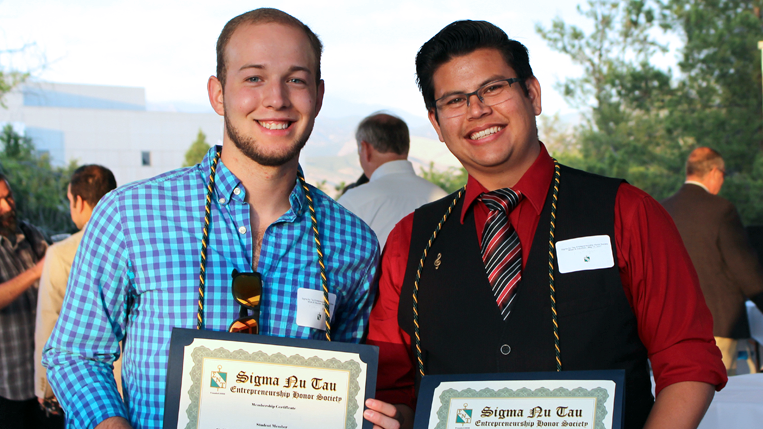 Overview
Sigma Nu Tau is an entrepreneurship honor society with the mission to promote, recognize, and reward academic excellence in entrepreneurship and to encourage and recognize the practice of principled entrepreneurship.
Who Can Join?
Undergraduate students are eligible to join in they are juniors or seniors and have a GPA of 3.2/4.0. Graduate students are eligible to join if they have completed 50% of their program and have a GPA of 3.5/4.0.
Students must exhibit honor, integrity, and a strong entrepreneurial spirit along with the above qualifications to be considered. A one-time initiation/membership fee of $50 is required to join Sigma Nu Tau.
Benefits of Membership
What you will receive upon induction:
Life-long membership - membership in Sigma Nu Tau means lifetime recognition for outstanding performance in an extremely challenging field.
Congratulatory Letter
Membership Certificate
Honor Society Lapel Pin
Also available to purchase are special Sigma Nu Tau graduation honor cords!
Additional Benefits
Additional benefits include:
Sigma Nu Tau E-Newsletter
Stay connected and up-to-date on our society events!
Discounts from various companies
Complementary 1-Year Subscription to Entrepreneur Magazine!
For More Information
For more information, contact Mike Stull at mstull@csusb.edu .