IECE Impact Report
The Inland Empire Center for Entrepreneurship (IECE) at California State University, San Bernardino (CSUSB) has published the 2021 Impact Report and the data shows that the IECE continues to have a growing and impactful economic presence in the region.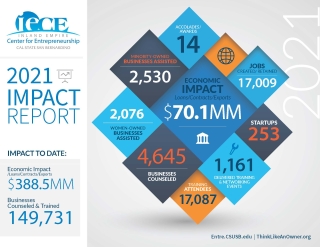 Among the findings is that in 2021, the IECE had a total net positive economic contribution of slightly more than $70 million when the total loans, contracts and exports are combined. "That's the direct economic impact, that doesn't account for any multiplier effects." said Mike Stull, Director of IECE.
IECE was also responsible for the creation and retention of approximately 17,000 jobs in 2021. The jobs are representative of a variety of industries including hospitality, logistics, tech, construction and retail services. Another category of jobs is for the entrepreneurs themselves who become self-employed after launching their ventures.
"Due to the pandemic a great deal of focus in last years impact to the economy was in assisting companies in keeping employees on the payroll. We did a lot of work to keep people employed and to keep their employees in-house. And so that's reflected in that number as well," said Paul Nolta, Manager of the IECE Small Business Development Center.
The report also details that IECE held more than a thousand training and networking events last year with more than 17,000 attendees. Women-owned and minority-owned businesses were also heavily featured in the IECE training and assistance programs with more than 2,000 and 2,500 businesses facilitated respectively.
Download a copy of the IECE Impact Report Here!