Johanna Smith
Professor of Theatre Education, Improvisation, and Puppetry/College of Arts & Letters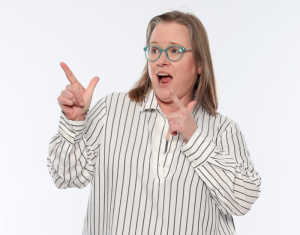 Joined the Entrepreneurship Team in 2018
Johanna Smith is a Professor of Theatre Education, Improvisation, and Puppetry at CSU-San Bernardino. Her research and practice focuses on integrating puppets into classrooms as well as professional Theatre for Young Audiences. She has served as a puppetry artist for Broadway-bound extravaganzas to museums to colleges to preschools, and often directs tours for CSUSB. She is also fond of International tours: Her production of The Odyssey (director, puppet design) toured to the PuppetFair puppet festival in Sofia, Bulgaria in 2008, followed by a tour of 4 major Chinese cities for the Chonqing Children's Theatre season in 2009. She has written and received grants from the National Endowment for the Arts and TCG. She created and teaches one of CSUSB's most popular courses, The Cultures of American Childhood, a Humanities offering that is highly sought after by all majors. She teaches improv and is a proud graduate of the Second City sketch comedy writing program (LA). She serves as a board member of the American Alliance for Theatre & Education . She believes in the power of laughter and creative re-use to inspire a love of learning.
Most Admired Entrepreneur:
My favorite entrepreneur is a tough one, because it's a toss up between Shari Lewis (and Lambchop) and Jim and Jane Henson (the Muppets). Both took their puppetry talents and created strong businesses! Jane Henson isn't often given full credit for her contribution to the business side of the Muppets, but it was a true "Mom and Pop" operation at first!
CSUSB School of Entrepreneurship Faculty Directory
CSUSB School of Entrepreneurship Faculty Directory

Our battle-tested leaders are here to provide student support. We invite you to connect with us!

Faculty
Position / Areas of Responsibility
Contact Info
Dr. Michael Stull
Director of the School of Entrepreneurship, Professor of Entrepreneurship and Director of the Inland Empire Center for Entrepreneurship /IECE
mstull@csusb.edu909/ 537-5708
Steve Abbott
Entrepreneur in Residence, Lecturer of Entrepreneurship
sabbott@csusb.edu909/ 537-3597
Frank Almeida
Adjunct Professor of Entrepreneurship
frank.almeida@csusb.edu951/ 323-7647
AJ Beechko
Adjunct Professor of Law and Entrepreneurship
ajbeechko@csusb.edu909/ 537-5708
Ezekiel Bonillas
Adjunct Professor of Entrepreneurship
ebonillas@csusb.edu760/ 848-9102
Mariatu Browne
Adjunct Professor of Entrepreneurship
mariatu.browne@csusb.edu909/ 231-2875
Monica Estrella
Adjunct Professor of Entrepreneurship
mestrella@csusb.edu
Karla Gonzalez
Adjunct Professor of Entrepreneurship
kgonzalez@iesmallbusiness.com951/ 781-2345
Dr. Anna Long-Ruboyianes
Assistant Professor of Entrepreneurship
anna.long@csusb.edu
Vincent McCoy
Adjunct Professor of Entrepreneurship
vmccoy@csusb.edu760/ 449-6850
Mitch Morris
Adjunct Professor of Entrepreneurship
mitchellcmorris@gmail.com909/ 537-5708
Patrick Person
Adjunct Professor of Entrepreneurship
pperson@csusb.edu909/ 537-5708
Lisa Rios
Adjunct Professor of Entrepreneurship
lrios@leadershipdimensionsinc.com951/ 444-7404
Ernie Silvers
Adjunct Professor of Entrepreneurship
esilvers@csusb.edu909/ 537-3760
Michelle Skiljan
Adjunct Professor of Law and Entrepreneurship
mskiljan@iewbc.org951/ 781-2345
Johanna Smith
Professor of Theatre Education, Improvisation, & Puppetry, College of Arts & Letters
johanna@csusb.edu909/ 537-5881
Dr. John Tillquist
Adjunct Professor of Entrepreneurship
jtillquist@TechCoastAngels.com951/ 323-7647