Thu, July 8, 2021
CSUSB alumni-owned Kids That Code holds grand opening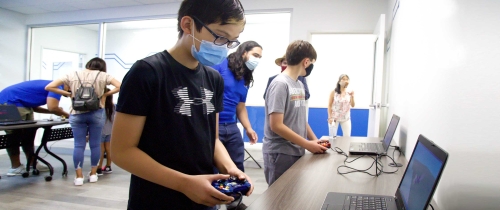 Kids That Code, a CSUSB graduate student trio-created company that teaches children of all ages computer-related topics that includes programming, game development, robotics, electronics, and 3-D character design, recently held an open house for its Kids That Code Education Center in Riverside.
The grand opening featured tours of the education center and hosted about 85 people in attendance.
Shari McMahan, provost and vice president of academic affairs at Cal State San Bernardino, praised KTC founders, company officers, and CSUSB alumni Alfonso Anaya, chief executive officer, and Jose Navarrete, chief financial officer, for their hard work and dedication.
"Thank you, Alfonso and Jose, for inviting all of us to be a part of this very exciting occasion, the grand opening of the first-ever Kids That Code education center," McMahan said. "The Tech STEAM Center will further engage and enrich youth of all ages in science, technology, engineering, art, and mathematics through the technology-based curriculum – for years to come. Congratulations on this notable addition and accomplishment!"
The grand opening included tours of the Tech STEAM education center, which had been broken up into three rooms with each room having KTC team members manning stations in order to assist attendees in exploring the featured activities and video games that were on display.
The first room was set up with a 3-D printer, laptop computer, and 35-inch monitor so visitors could see the software program, which allowed the creation of 3-D objects. The printers continually printed 3-D characters such as Pikachu, Grogu (Baby Yoda), and characters from the games Minecraft and AmongUs, which along with special 3-D tokens, were given away to visitors.
In-Room 2, computers were set up with Kodu, a 3-D rapid prototyping software that allows individuals to create 3-D video games. Room 2 also showcased the KLC electronic programs. On display were the Arduino microcontroller, their robotics rover, and several small build-and-keep electronic circuits.
Room 3 featured two Oculus Quest 2 VR headsets, where visitors had the opportunity to experience virtual reality games and demonstrations.
The company got its start from its CSUSB School of Entrepreneurship graduate student project. Both Anaya and Navarrete, along with founding partner Pat Person, were all enrolled in an entrepreneurial management course at the CSUSB Jack H. Brown College of Business and Public Administration, where they came up with the idea of bringing STEAM (Science, Technology, Engineering, Art and Math) education to children of all ages through technology-focused programs and curriculum.
Soon after, in the fall of 2012, the three successfully pitched their innovative idea to a panel of investors and entrepreneurs during the annual Garner Holt Student Fast Pitch Competition, put on by CSUSB's Inland Empire Center for Entrepreneurship (IECE). The following year, they participated in Chapman University's invitation-only California Dreamin' competition, which brings together students from top university entrepreneur programs nationwide.
That same year, Navarrete, Anaya, and Person launched their first pilot program at the CSUSB campus. Twelve children, ages 4-12, graduated from their Kids That Code summer program. And in 2015, they opened for business, offering both workshops and tech camps to youth. Kids That Code became the first company to be a part of CSUSB's Catalyst Business Accelerator program. This program, also facilitated by the IECE, provides student business startups with support, mentoring, and additional opportunities.
Navarrete holds three bachelor's degrees in business in entrepreneurial management, finance, and real estate; and two master's degrees in business in entrepreneurship and finance, from CSUSB. Anaya earned a master's degree in entrepreneurship. The two men also teach finance at the Jack H. Brown College of Business.
Learn more at the Kids That Code website.