Mariatu Browne
Adjunct Professor of Entrepreneurship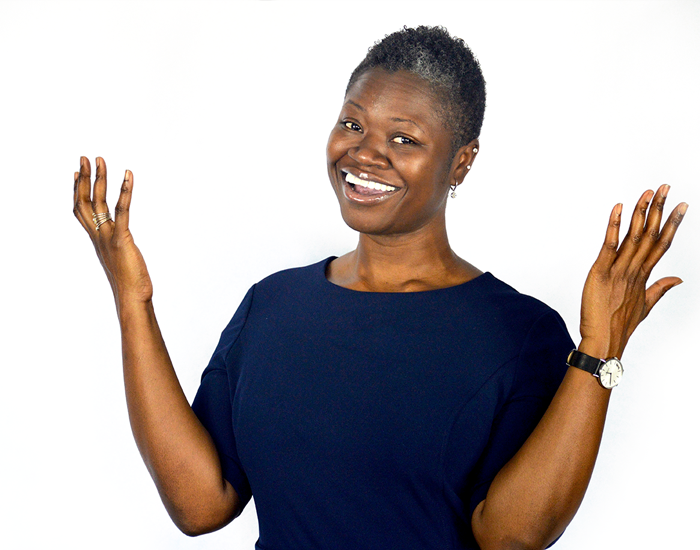 Joined the Entrepreneurship Team in 2020
Mariatu opened her first salon in 2006, but a series of personal hardships compounded by the economic downturn forced her to close her doors. Mariatu continued to improve her cosmetology skills by working at other salons and decided to go back to school.
In 2010, she enrolled at Chaffey College and earned an Associate of Science degree.
In 2014, Mariatu accepted the Spirit of the Entrepreneur Scholarship from California State University, giving her the boost she needed to receive training, education, mentoring, and business resources. In October 2016, Mariatu went on to open Tu Organics Salon and Spa in Rancho Cucamonga, the City's first-ever Green Beauty Salon.
In 2017, Mariatu earned two bachelor degrees in entrepreneurial management and marketing. In 2019, Mariatu joined Riverside City College Cosmetology Department as an Adjunct Lecturer. Her specific objective is to mentor and create job skills for her Cosmetology students. In June 2020, she earned her Professional MBA degree from California State University, San Bernardino.
She recently joined the Entrepreneurship Department, as an Adjunct Lecturer. In addition to her education, Mariatu has launched a second location of Tu Organics Salon and Spa in Las Vegas, Nevada. .
Most Admired Entrepreneur:
Marcus Lemonis, The Profit
Awards & Accolades:
In the fall of 2015, Mariatu went to the Inland Empire Women's Business Center as part of the "It's Your Time: An Entrepreneurial Training Series for Women." She completed the program in December 2015, receiving second place in the competition for the best business plan.
Mariatu's commitment to environmental sustainability earned her a Certificate of Recognition from the City of Rancho Cucamonga for participating in the Healthy RC Green Business Recognition Program.
Mariatu is also a member of the Professional Beauty Association.
CSUSB School of Entrepreneurship Faculty Directory
CSUSB School of Entrepreneurship Faculty Directory

Our battle-tested leaders are here to provide student support. We invite you to connect with us!

Faculty
Position / Areas of Responsibility
Contact Info
Dr. Michael Stull
Director of the School of Entrepreneurship, Professor of Entrepreneurship and Director of the Inland Empire Center for Entrepreneurship /IECE
mstull@csusb.edu909/ 537-5708
Steve Abbott
Entrepreneur in Residence, Lecturer of Entrepreneurship
sabbott@csusb.edu909/ 537-3597
Frank Almeida
Adjunct Professor of Entrepreneurship
frank.almeida@csusb.edu951/ 323-7647
AJ Beechko
Adjunct Professor of Law and Entrepreneurship
ajbeechko@csusb.edu909/ 537-5708
Ezekiel Bonillas
Adjunct Professor of Entrepreneurship
ebonillas@csusb.edu760/ 848-9102
Mariatu Browne
Adjunct Professor of Entrepreneurship
mariatu.browne@csusb.edu909/ 231-2875
Monica Estrella
Adjunct Professor of Entrepreneurship
mestrella@csusb.edu
Karla Gonzalez
Adjunct Professor of Entrepreneurship
kgonzalez@iesmallbusiness.com951/ 781-2345
Dr. Anna Long-Ruboyianes
Assistant Professor of Entrepreneurship
anna.long@csusb.edu
Vincent McCoy
Adjunct Professor of Entrepreneurship
vmccoy@csusb.edu760/ 449-6850
Mitch Morris
Adjunct Professor of Entrepreneurship
mitchellcmorris@gmail.com909/ 537-5708
Patrick Person
Adjunct Professor of Entrepreneurship
pperson@csusb.edu909/ 537-5708
Lisa Rios
Adjunct Professor of Entrepreneurship
lrios@leadershipdimensionsinc.com951/ 444-7404
Ernie Silvers
Adjunct Professor of Entrepreneurship
esilvers@csusb.edu909/ 537-3760
Michelle Skiljan
Adjunct Professor of Law and Entrepreneurship
mskiljan@iewbc.org951/ 781-2345
Johanna Smith
Professor of Theatre Education, Improvisation, & Puppetry, College of Arts & Letters
johanna@csusb.edu909/ 537-5881
Dr. John Tillquist
Adjunct Professor of Entrepreneurship
jtillquist@TechCoastAngels.com951/ 323-7647