No one succeeds in business in a vacuum.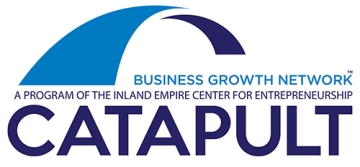 Navigating your industry, customer demands, and growth happens when your leadership is combined with the best support and resources available. Acquiring growth-minded knowledge and skills, coupled with fresh perspectives from peers, will significantly expand your business knowledge and deepen your capacity for increased success.
Catapult Business Growth Network is exactly that… a network of business leaders helping each other succeed!
This series will help you position your business for measurable growth, through a unique curriculum and process, including:
Learning a set of proven concepts and practical tools, that when implemented, will help drive and manage the growth of your business.
Working with like-minded entrepreneurs who are intent on building and maintaining an impactful peer-to-peer support network.
Built-in accountability mechanisms so that you and your team are working to achieve maximum results in your business.
Over the course of four (4) intensive and dynamic sessions, this network will meet to gain new entrepreneurial competencies, connect and share business experiences, and build impactful relationships that will result in a vibrant and ongoing peer mentoring group. The ultimate goal is to equip you with the tools and connections to fuel the trajectory of your business.
Future Cohort(s) to Be Announced
Location: Temecula Valley Entrepreneurs Exchange: 43200 Business Park Drive, Temecula, CA 92590
Ideal Candidate Criteria: Business owners that exhibit a Growth Mindset, have been in business a minimum of two years, have a minimum of two employees, and are generating a million+ in revenue.
Full scholarships are available for qualified applicants thanks to the Bank of America Foundation - A proud partner in supporting entrepreneurial growth throughout the Inland Empire region! Investment: The Catapult Business Growth Network is normally $6,500.